When Groupon* ran a special for Barnes and Noble a few months ago, I knew exactly what I was going to do with it – share my favorite cookbook.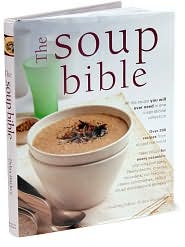 The Soup Bible – edited by Debra Mayhew
Of all my cookbooks, this one has the most wear and the most dirty pages. It reliably offers inspirations and I've only had a couple recipes that were less than satisfactory (and one was definitely my fault for adding much more of an ingredient than called for).
It has light soups and hearty ones, simple and complicated. It has ones made from ingredients scrounged around a bare pantry and ones that require special shopping trips. It has some which have become reliable staples frequently prepared. And there are still new recipes I am excited to try in the future. I think I've made about half… maybe fewer… but that's cooking for one and an eclectic palate.
Now here are my reservations about this book: Debra Mayhew is the editor, not the author. You have to look very hard to figure out who wrote the original recipes. Also, this is not the book Debra Mayhew originally edited (though I didn't figure that out until I'd already fallen deeply in love with this version), which is The Cook's Encyclopedia of Soup – and this is a Barnes and Noble abridged version.
Those reservations aside – it's amazing. The photography looks straightforward and explanatory, but it takes quite a bit of skill to make bean soup look that lovely. The directions are easy to follow, and the language is spare, so you don't roll your eyes too much at the cultural appropriations. And – yes – so many cultural and so many different soups! It's really a very exciting collection.
So I'm giving one away. Leave a comment and tell me your favorite soup or favorite cookbook. And if I get more than one comment, I'll pull out a random number generator to pick a winner.
*note: I am not affiliated with Barnes and Noble. I do have a membership with groupon, and the link is a referral code that will give me $10, if you are new to their service and make a purchase. I don't actually expect to make any money, but I couldn't think of any reason not to use that link.